Celebrating 30 years of service
Since 1979 4C Electronics has developed all kinds of electronic products using various technologies and techniques. We are based in Stockton-on-Tees in the North East of England.
The vast majority of our work over the past 30 years has been in designing developing electronics products for our customers.
Check out the Projects page to see some of our past projects.
LED lighting is an area that we are active in. We are designing a whole range of products that are being rolled out under our SpriteDrive banner. Check out www.SpriteDrive.com for more information. LED lighting is set to be a classic disruptive technology over the next few years. We will soon wonder how we lived without it!
In the 1980s we developed a range of products for the geophysical industry. That industry has since been consolidated into a few big players that develop and use their own products. We still sell modern derivatives of our units to smaller companies that need to log various parameters for quality assurance purposes.
Quality Assurance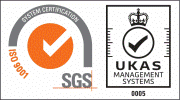 We have been an ISO9001 registered company since 1997 (Registered number Q9424).
We are assessed in the design, manufacture, installation and commissioning of electrical and electronic control systems including microprocessor based electronic assemblies.